Avoid the risk of water contamination
The EZ-City Water inlet and cap are easy to use and promote a cleaner environment for delivering and containing water.
The EZ-City Water Inlet enables you to quickly and easily disconnect from your RV and reconnect to a water holding tank or a spray nozzle.  It provides an easy to use quick connect cap that securely seals off the water inlet.  The cap prevents the need for an internal stop valve that often malfunction forcing you to replace the whole valve. Made from electro-polished 316 L stainless steel, this valve will outlast the conventional plastic water inlets. For this reason, we suggest that the stop valve like the pressure regulator be replaceable additions to the valve. We take pride in the quality and the stylistic look of this unique EZ water inlet system.
We pride ourselves on being the first in the market to patent a way to connect a city water line to your RV or boat without having to screw on or off any attachments.
Don't let anything waste a minute of your life. Here are some time-wasting examples that the EZ- city water inlet solves: Screwing your garden hose into your RV water inlet…. Shutting the water off and then re-screwing it into your water holding tank or a spray nozzle… then having to unscrew it and re-screw it back on to your water inlet… or having to replace your water inlet due to leaks or a bad water stop valve. The EZ-city water inlet solves all these problems and provides a securely sealed system with a stylistic look.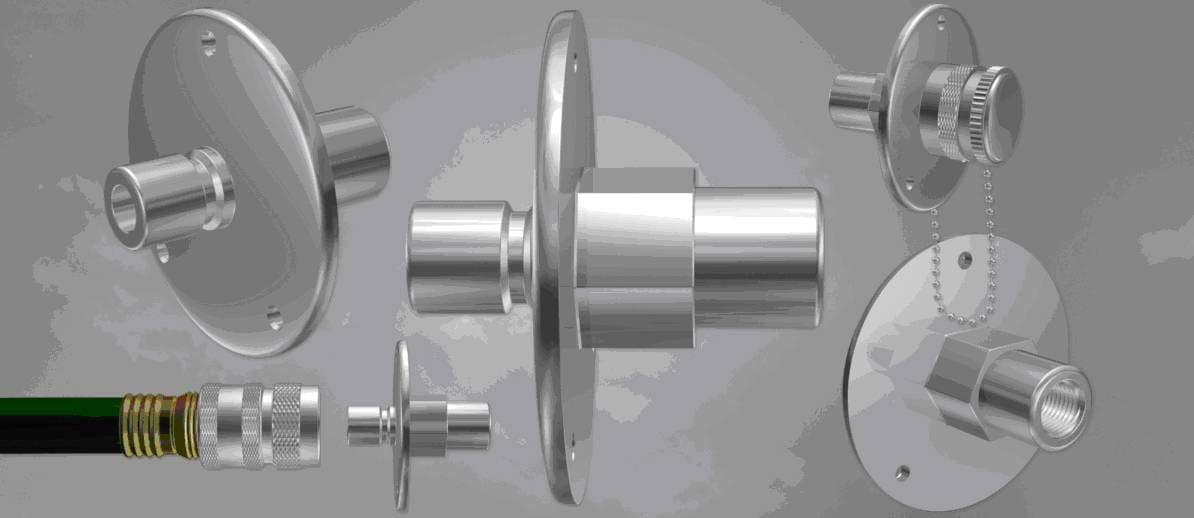 Keeping your drinking water safe
According to the, "National Institute of Health", corona viruses and many other contaminates are detectable on plastic and stainless-steel surfaces for up to three days.  These contaminates hide in microscopic openings on the surface of RV water inlets where moister provides a perfect environment for their growth.  It's a fact that when you electro-polish stainless steel, the microscopic hiding spots on its surface are eliminated, giving contaminants nowhere to hide.
The EZ-city water inlet and cap (like hospital equipment) are made from electro- polished stainless steel for improved sanitation control.  More importantly, the water inlet is not touched when quick connecting the water hose to the inlet preventing contamination from your hands.  The system is designed to be leak-proof which helps prevents the growth of contaminants.